Looking for an instance face lift without surgery? As we age and gravity takes its course, our skin slowly loses the volume and laxity we enjoyed in our youth. The Silhouette InstaLift is an innovative, non-surgical treatment that uses Micro-Suspension Technology to achieve and lifted and volumized appearance!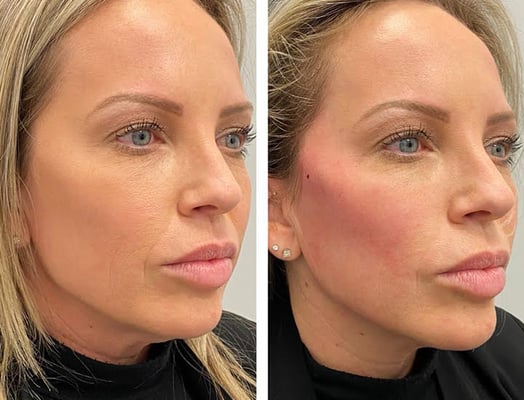 45 Minutes

Sutures

Results last approx. 1 - 3 years

Mild after numbing

2 – 4 days

Local anesthetic
Results last approx. 1 - 3 years
Silhouette Instalift uses dissolving thread sutures applied deep in the skin to reduce the appearance of aging skin. This treatment is an appropriate solution for mid-facial skin including sagging cheeks and deep nasolabial folds (between the nose and mouth).
Following a consultation, the Silhouette Instalift Threads procedure takes about 45-60 minutes. The practitioner will inject a local anesthetic to avoid any discomfort. Next, the sutures with microscopic cones attached, are inserted under the skin and used to reposition and achieve the desired lifting effect of the skin. The disolvable bi-directional cones of the sutures, lift the skin from beneath and maintain an elevated position. The lifting effect will appear immediately; however, the collagen production is gradual. With time, an increasing amount of collagen will develop as the cones dissolve, rejuvenating the shape of your face and providing long-lasting outcomes.
Following the treatment, it is common to experience some inflammation, minor pain, swelling, and bruising around the sutures. Although uncomfortable, the inflammation indicates that your body is restoring its natural collagen production in the area. The recovery time will last about 2 to 4 days.
Please fill in your information below, and a member of our team will contact you shortly:
526 Bryne Dr
Barrie, Ontario, L4N 9P6