Our Fotona Laser gently resurfaces and rejuvenates the neck. With no downtime, this is a convenient way to tighten the loose skin on the neck and remove "Tech Neck"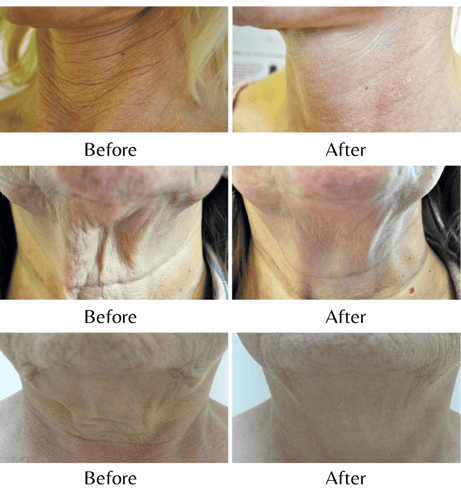 60 minutes

Laser

4 - 6 treatments, then annual maintenance

Mild discomfort

None

Numbing may be applied
4 - 6 treatments, then annual maintenance
The skin loses strength and elasticity as we age, so it is common to see early signs of premature aging such as sagging of the skin on the neck, commonly referred to as "turkey neck" as well as "tech neck" as we are constantly looking down at our cell phones. Fotona's Neck Neglect laser non-invasively rejuvenates and restores elasticity in the neck, giving patients a more youthful look!
Our Fotona Neck Neglect works by using four different lasers to send laser waves that will warm the deep and superficial tissues of the neck. This stimulates collagen production in the area and will reduce sagging skin. The treatment feels warm but is very tolerable.
Most patients don't need any downtime following a Neck Neglect treatment and can return to their normal activities immediately after treatment! We recommend using medical grade skincare products containing high-performance active anti-aging ingredients to help protect the skin. Daily use of sun protection also prevents premature aging of the skin.
Please fill in your information below, and a member of our team will contact you shortly:
526 Bryne Dr
Barrie, Ontario, L4N 9P6