Dermaplaning targets dullness, acne, fine lines, uneven texture and more. It is a safe, effective and pain-free approach to skin rejuvenation.


45-60 mins

Scalpel Blade

Recommended 3 treatments then maintenance as needed

Minimal to none

None

None
Recommended 3 treatments then maintenance as needed
Dermaplaning is a non-invasive, manual exfoliation that uses a scalpel to gently scrape away layers of dead skin and peach fuzz. This leaves behind smooth, glowing, radiant skin that will help to improve texture, tone, fine lines and acne scarring. This treatment also improves the absorption of skin care products and allows for smoother makeup application!
Our skilled treatment providers will cleanse the face to prepare the skin for treatment. Patients will feel the sensation of the blade across their skin, which is similar to the way that shaving with a razor feels. Once the Dermaplaning is completed, your provider will apply medical grade skin care to protect your skin.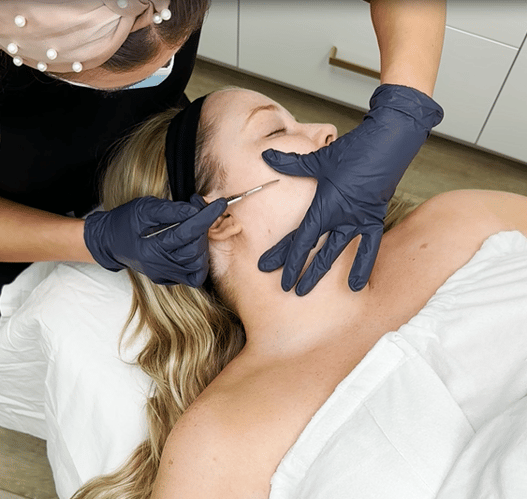 Patients can return to daily activities right away, however the skin may appear flushed or reddened from the treatment. Avoid strenuous activity for 24 hours, make sure to wear SPF daily and stay well hydrated!
Please fill in your information below, and a member of our team will contact you shortly:
526 Bryne Dr
Barrie, Ontario, L4N 9P6