They say that the eyes are the window to the soul – but dark undereye circles can make you appear older and more tired than you may really feel. PRP treatment can overcome dark under eye circles by turning back the clock and revitalizing tired looking eyes.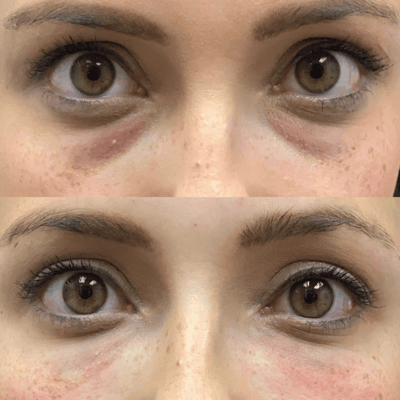 Platelet-Rich Plasma or PRP therapy employs the growth factors from your own blood to regenerate your skin from within. The active proteins in this formulation, commonly referred to as "liquid gold," are injected under the skin to stimulate a potent healing response.

This process aids stem cell growth, enhances the production of collagen and elastin, and improves blood flow to the treatment area. Consequently, age-related volume loss is naturally reversed, particularly in the under-eye region, resulting in a more youthful, radiant, and smoother appearance.
The PRP Under Eye Dark Circle repair treatment starts with a customary blood draw. Your collected blood is then put through a specialized centrifuge to extract the growth plasma needed for PRP eye therapy. This golden plasma is then gently injected with a very small needed under the eye area. This treatment session usually lasts for approximately 45 minutes to an hour including the blood draw. The injection under the eyes last less than 10 minutes.

It's important to have practical expectations when it comes to the results. As PRP induces natural regeneration processes, it may take some time for the dark circles to start to fade. However, most individuals begin to experience some reduction is dark circles within a few weeks of treatment, although the outcome may vary. A sequence of treatments is required to achieve and maintain the desired results, and our skilled team can help create a personalized treatment plan tailored to your objectives.
There is little to no downtime after this treatment. You will receive a series of small injections under your eyes, so some swelling and redness may occur. Occasionally you may experience a small amount of bruising where the injections happened. These all typically go away after a couple hours. You can resume normal activities immediately after this treatment.
Please fill in your information below, and a member of our team will contact you shortly:
526 Bryne Dr
Barrie, Ontario, L4N 9P6