Heating the collagen deep in your face, Thermage tightens the skin and builds new collagen. Skin will be more firm along the jawline, cheeks, neck and eyes.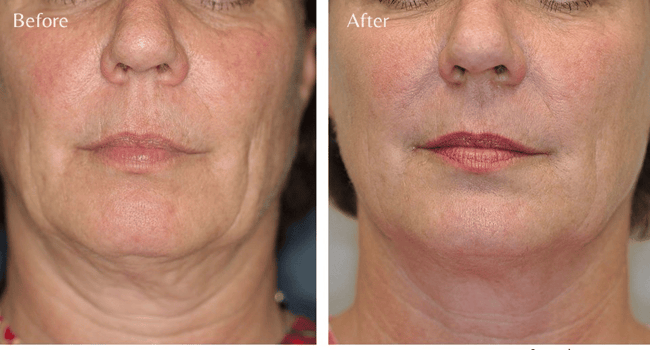 120 - 150 minutes

Laser


Moderate due to bursts of heat

None

None
Moderate due to bursts of heat
Thermage works by heating up the collagen in the lower layers of the skin using radio frequency energy. Deep heating causes the skin to tighten and new collagen to form. Over the course of six months, your skin will appear tighter and more firm. It's best used for non-surgical brow and jowl lift, facial wrinkles and sagging skin on the face and body.
Thermage can treat many areas of loose, sagging skin of the face and body. One of our skilled laser technicians will map out the area needing to be treated and pass the laser over the area. The laser feels like short bursts of heat.
Most patients return to their regular activities immediately following the Thermage treatment, although it is possible to experience temporary redness or minor swelling of the treated area in the 24 to 48 hours following the treatment. It's recommended to stay well hydrated before and after your treatment. Using moisturizer and SPF on treatment areas will help protect your skin. Studies show that taking Vitamin C daily for three months post treatment can help boost collagen production.
Please fill in your information below, and a member of our team will contact you shortly:
526 Bryne Dr
Barrie, Ontario, L4N 9P6